vertical closures
Elegant and timeless vertical closures for your terrace.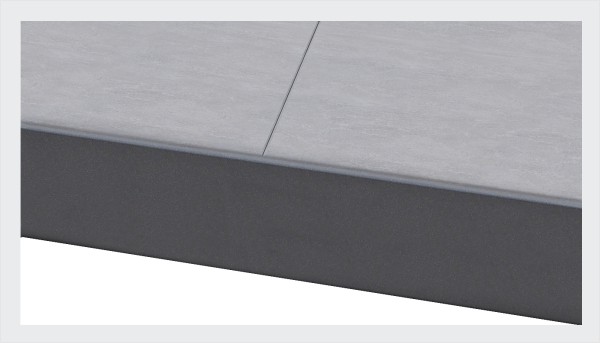 pedestal edge finish
The following blog will give you an overview of these three variants of the edge solution.
vertical closures for pedestal
As a quality supplier of decking substructures, we naturally also offer a wide range of matching vertical closures. Because there are several different types:
a) border claddings
b) border profiles and
c) Cladding with the help of riser clips
The details of the individual designs can be found in the respective products.
However, here we may tell you the advantages and disadvantages of each design:
Advantages and disadvantages of border claddings
The advantages of border claddings are as follows:
beautiful look
Quick assembly
very good accessories (corners, connector)
can also be used for 3cm covering materials
The disadvantage of edge trim is mainly the limited choice of heights (6, 8, 10, 12cm) and colors.
Advantages and disadvantages of edge profiles
The advantages of edge profiles lie in the following areas:
individual heights can be realized – also slopes etc. can be realized!
4 colors in powder coated aluminum and 1 type in stainless steel are available
very nice look
Quick assembly
Can also be used for SmartWabic raised floor
The disadvantages of edge profiles, on the other hand, are as follows:
only 2cm thick materials can be used as a vertical end slab.
perfectly matched to pedestal 'Professional' – with all other pedestals these can be used; however, individual adjustments are necessary.
Advantages and disadvantages of perimeter spacers
The advantages of perimeter spacers:
individual heights are realizable
Quick assembly
very favorable variant
The disadvantages, on the other hand, are:
only 2cm thick materials can be used as a vertical end slab.
perfectly matched to pedestal 'Professional
possibly disturbing optics due to the visible clips